Self Serve Dog Wash
Amenities:

Waist level tub with stairs and grooming restraints (if needed).
Your choice of shampoo fragrance. (Currently using Skout's Honor shampoo + conditioner.)
Scrubbing brushes, brushes, combs, ear cleaner, towels, and more provided.
High velocity dryer to help remove excess hair before bathing and after.
Grooming table with adjustable height - perfect for drying or finishing touches & trims.
Tubs

No appointments are necessary, this service is first come, first serve.
You are welcome to call ahead to see if another customer is currently using it.
We ask that the last bath is done no later than 1 hour before closing.
Price: $15 per pet. Frequent Buyer program.
Children are allowed in the self serve area, but please be respectful of our store and supplies. It is not our job to babysit your children so please supervise at all times. Thank you for understanding!


Why should I use the self serve dog wash for my pet?
Punch card for 6th bath free
Less stress for your dog
Spend quality time with your dog
No mess to clean up at home
No aching back or sore knees from leaning over the tub
Less expensive than paying someone to do it for you
No more clogged drains at home
No supplies to buy
No appointment necessary


Special Orders
If you are looking for a product that we do not carry, we might be able to order it for you. Our distributors carry thousands of products. As much as we would love to carry it all, we would need a much larger store to do so. If we do not have what you are looking for we may be able to special order it in for you!!


Pet Care Advice
Advice is always free...
Please stop in with your questions/concerns and we will be happy to assist you the best we can.
We are not a vet clinic, please consult with your veterinarian before making any changes with your pet's health care.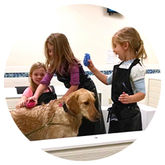 Self-Service Dog Wash
Our self-service dog wash permits you to stand in comfort at the dog washing station, and we provide all the things needed to give your dog a professional wash. You take away a spotless dog, and our staff tend to the mess and laundry.
Come visit our pet supply store in Grand Forks, ND specializing in quality food, treats, and supplies for cats and dogs.