All-natural, oven-bajed organic treats for dogs!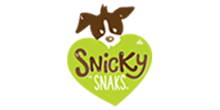 Treat Play Love is proud to carry Snicky Snacks in Grand Forks, North Dakota. At Snicky Snaks we start with only high quality ingredients. All ingredients are sourced and made in the USA and 100% USDA Organic certified. Our treats are made with REAL fruits and vegetables, grown without the use of pesticides, synthetic fertilizers, or GMO's. No Sugar, Salt, Preservatives, Artificial Colors or Flavors.
Organic foods do not contain chemicals such as fungicides, herbicides, and insecticides. These chemicals are widely used in conventional agriculture where residues remain on (and in) the food. Organic foods are also not genetically modified (non-GMO).
Dog Treats
OAT & MAPLE RECIPE
COCONUT & CRANBERRY RECIPE
STEEL CUT OATS & PUMPKIN SPICE RECIPE
SWEET POTATO PIE
CARROT CAKE
APPLE COBBLER
PEANUT BUTTER
SWEET POTATO PIE
APPLE COBBLER
PEANUT BUTTER
Come visit our pet supply store in Grand Forks, ND specializing in quality food, treats, and supplies for cats and dogs.